MOTION PLATFORM
TRULY IMMERSIVE EXPERIENCE

Unlimited rotation
Unlimited rotation around the longitudinal, vertical and lateral axis

Safety
Safe mechanical design resistant to electronic failures

Unleashed performance
Impressive dynamics and high performance

Add-ons & Accessories
Possibility of using 3rd party accessories

Human Machine Interface
Modular Human Machine Interface design

Super silent
Extremely quiet and smooth operation

Software support
Control motion systems using one of ours SDK

VR technology
Full VR technology support
MOTION SYSTEM PS-3ROT-150
TRULY IMMERSIVE EXPERIENCE
3DOF motion platform PS-3ROT-150 is the comprehensive, very unique and ready-to-go simulation solution offering unlimited 360° rotation in 3 axes. Cutting edge technology provides outstanding performance and responsivness necessary in professional training or entertainment applications.
ASK ABOUT PRODUCT
ASK ABOUT PRODUCT
PS-3ROT-150 full cockpit simulator is dedicated for specific applications like professional training or entertainment:
gyroscope VR training for pilots
rotary and fixed wings flight simulators
360 motion VR trainer
space travel simulator
entertainment applications
fast one-man submersibles simulation, diver propulsion vehicle simulation
ASK ABOUT PRODUCT
ASK ABOUT PRODUCT
The PS-3ROT-150 stands out by incredible ergonomics and wide range of simple accessories tailored to individual needs. PS-3ROT-150 has been designed with the highest quality of components and massive attention to details. Coherent and aesthetic design, comfort and safety of use and smooth and silent operation create a motion system that meets the expectations of the most demanding users.
ASK ABOUT PRODUCT
ASK ABOUT PRODUCT
MOVEMENT PERFORMANCE ALONG THE AXIS
Max angular movement speed: 90°/s
Max angular acceleration of motion: 30°/s²
Max angular movement speed: 90°/s
Max angular acceleration of motion: 30°/s²
Max angular movement speed: 60°/s
Max angular acceleration of motion: 30°/s²
2 x Single Phase 230V or 3-Phase 400V
PRODUCT CARD
PRODUCT CARD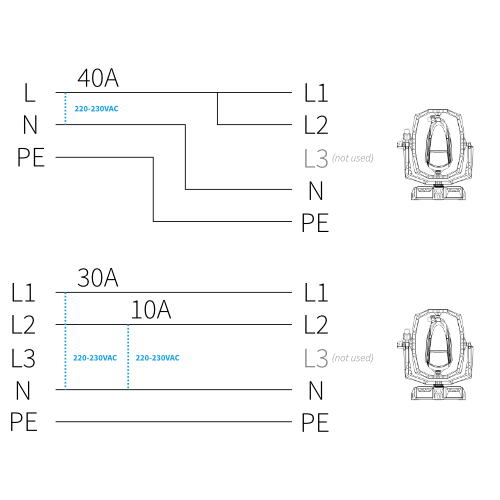 PS-3ROT-150 requires two 220-240VAC, 50~60Hz power channels. First is used only for motion related components, second channel is dedicated for cabin accessories (e.g. computer, display system).
if the same phase is connected to both channels, 40A is required
if different phases are connected to each channels (e.g. L1 and L2 from 3×400 V power system), then first channel requires up to 30A, the second requires only 10A
this device does not require 120˚ between power sources/phases.
if one needs to install 115VAC accessories in cabin, then one must install AC-AC step down converter in the cabin as well
TECHNICAL SUPPORT
TECHNICAL SUPPORT


Even most advanced hardware is nothing without good software. It might looks simple from the outside, but under the hood there is a lot going on, in both firmware and PC software. For instance, we monitor motion stream characteristic and adjust frequency inverters parameters on the fly to make sure that motion platforms is smooth when it is required or fast and brutal in other cases.
WHAT KIND OF SOFTWARE DO I GET?
Every our motion platform is delivered with the platform manager. This application is free of charge for every customers who buys our motion platforms. This rules all to both home and professional series motion platforms. The application allows to use motion platforms with supported games, perform diagnostic, monitor motion platforms operation, update firmware and use SDK - ForceSeatMI to connect it to your custom applications.
CAN I CONTROL MOTION PLATFORM FROM MY SOFTWARE?
You can control all our motion platforms using one of ours SDKs.
IS IT VR READY?
All our motion platforms work in VR environment. Additionally if you need to compensate unwanted head movements caused by motion platform's top frame movements, we have a technology that will do it for you. The VR HeadWay is part of the platform manager and it is available free-of-charge for all customers who bought one of our motion platforms.
WILL IT WORK WITH UNREAL ENGINE 4 AND UNITY?
Both our SDK support both - UE4 and Unity. It means that as long as you can modify UE4/Unity application, you can add support for motion platform to it. Click here for details.
However if you use 3rd party closed source UE4/Unity application or game, then it will not support motion platform by default. Please check with application developers to confirm if they can use our SDKs in their product.
WILL IT WORK WITH LINUX?
The platform manager application supports only Windows PC however our low lever SDK - ForceSeatDI can be used with Linux and Raspberry Pi 3.