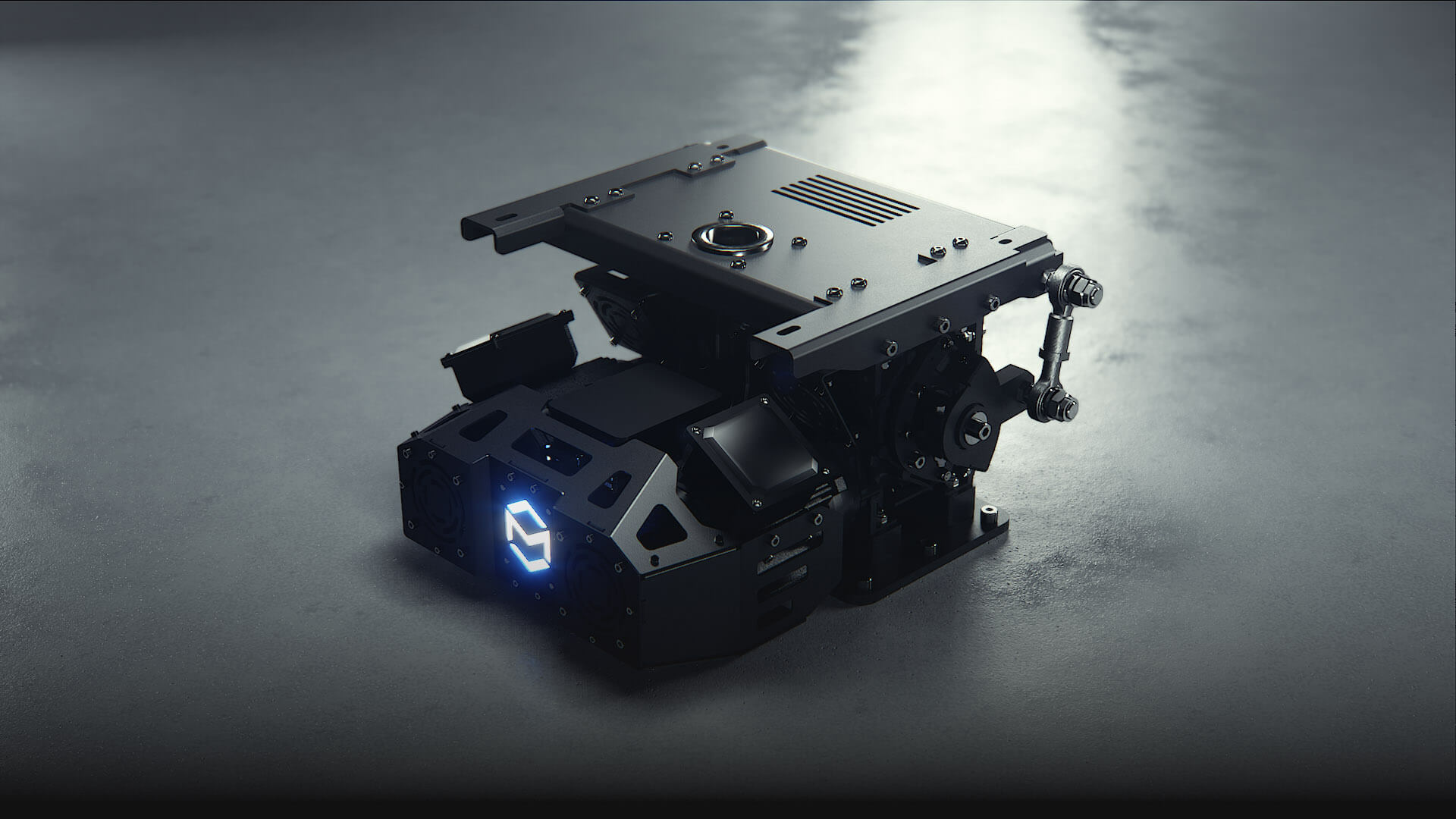 MOTION PLATFORM
PROFESSIONAL SERIES

Plug&Play
Ready to work in just minutes

Compact design
Small footprint and lightweight body

Durability
Cost-effective operation, high reliability and safety

Software support
Control all our motion platforms using one of ours SDK

Unleashed performance
Impressive dynamics and performance

Super Silent
Extremely quiet and smooth operation

VR technology
All our motion platforms work in VR environment

Low power consumption
High performance devices with minimal power budget
MOTION PLATFORM PS-2RM-150
UNBEATABLE RELIABILITY FOR THE SMALLEST APPLICATIONS
PS-2RM-150 is a professional motion system with two degrees of freedom, dedicated for use under the seats or standing person on the floor (1,5m x 1,5m). The small footprint, self-locking gears and simple, reliable design allows the machine to be used for many applications dedicated to professional simulation, image stabilization and entertainment.
The motion platform also is recommended for open cockpit simulators, devices testing applications and healthcare equipment.
platforms are suitable for racing and flight open, speed boat or flight simulators
vehicle training simulators for 1 person
small size military training simulators for 1 person
small size mining equipment simulators
entertainment simulators up to 1 person
healthcare equipment to 1 person
single user VR application standing position avaliable
testing and verification applications
heavy weight seat mover
UAV operation support- landing pad




POWER CABINET
PS-SB230+PS-SB230FI
Power cabinets PS-SB230 are integrated continuous power supply solutions for all our motion platforms. New generation of electrical cabinet is equipped with proprietary design electronics and software. The switch box is responsible for power distribution and acts as safety and control device.
It contains AC and DC fuses and handles remote safety switches also provides power to inverters and motion controller. Design of cabinets allows users to achieve security measures CL class up to SIL(Safety Integrity Level) 3 if required. Additional remote control unit is provided for operator convenience and safety. It allows to start the motion platform, park and stop it immediately in case of emergency situation.
PS-SB230
PS-SB230FI12
PS-SBA2 (rack connector)
PS-SBR (remote control unit)
PS-SBEC (EMCY cable)
€ 1500.00 (tax and duty not incl.)
ASK ABOUT PRODUCT
ASK ABOUT PRODUCT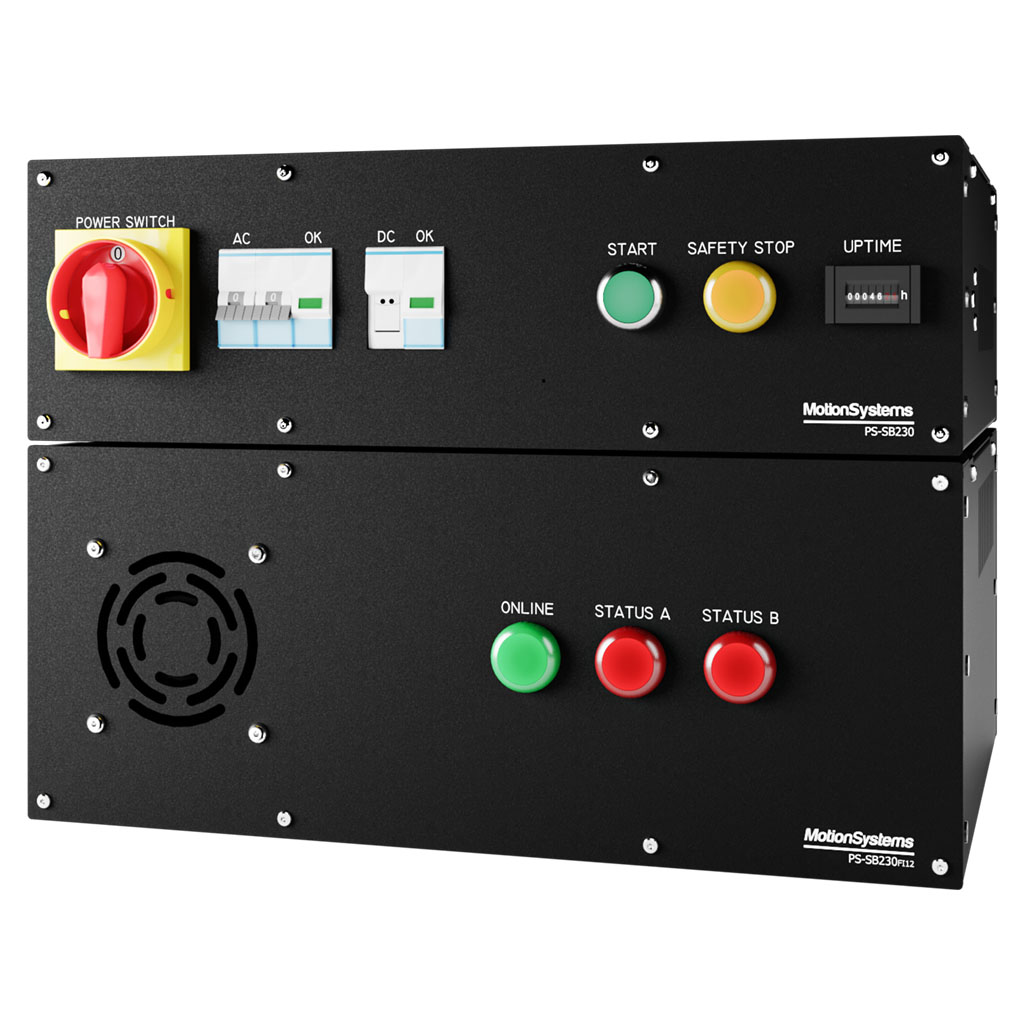 Even most advanced hardware is nothing without good software. It might looks simple from the outside, but under the hood there is a lot going on, in both firmware and PC software. For instance, we monitor motion stream characteristic and adjust frequency inverters parameters on the fly to make sure that motion platforms is smooth when it is required or fast and brutal in other cases.
WHAT KIND OF SOFTWARE DO I GET?
Every our motion platform is delivered with the platform manager. This application is free of charge for every customers who buys our motion platforms. This rules all to both home and professional series motion platforms. The application allows to use motion platforms with supported games, perform diagnostic, monitor motion platforms operation, update firmware and use SDK - ForceSeatMI to connect it to your custom applications.
CAN I CONTROL MOTION PLATFORM FROM MY SOFTWARE?
You can control all our motion platforms using one of ours SDKs.
IS IT VR READY?
All our motion platforms work in VR environment. Additionally if you need to compensate unwanted head movements caused by motion platform's top frame movements, we have a technology that will do it for you. The VR HeadWay is part of the platform manager and it is available free-of-charge for all customers who bought one of our motion platforms.
WILL IT WORK WITH UNREAL ENGINE 4 AND UNITY?
Both our SDK support both - UE4 and Unity. It means that as long as you can modify UE4/Unity application, you can add support for motion platform to it. Click here for details.
However if you use 3rd party closed source UE4/Unity application or game, then it will not support motion platform by default. Please check with application developers to confirm if they can use our SDKs in their product.
WILL IT WORK WITH LINUX?
The platform manager application supports only Windows PC however our low lever SDK - ForceSeatDI can be used with Linux and Raspberry Pi 3.