* Price does not include tax (VAT), customs duty, transportation costs, installation costs, mother truck and mother truck's dedicated bodywork (for mobile version of the simulator). The information contained in this web page does not constitute an offer in the meaning of the Civil Code of 23rd April 1964.
You Don't Need To Bring Customers To You,
Mobile, compact, fully equipped 6dof simulator built on Mercedes-Benz Actros can go everywhere. No more heavy long trailer, just single unit 2-axle truck (FHWA class 5 vehicle). This is the future of truck driver training and the future is already here.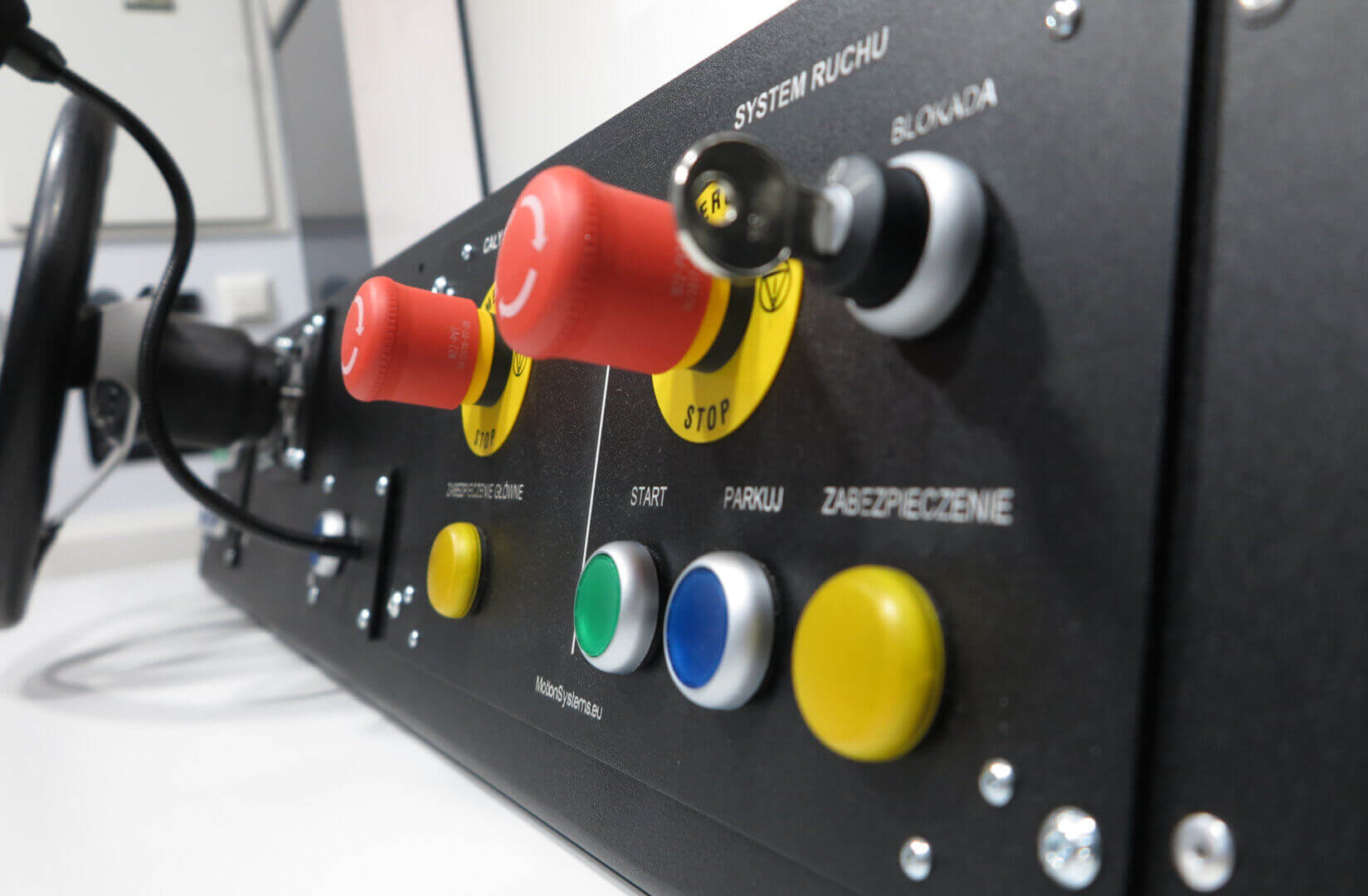 Fact No. 1
Solid Design For Business
The simulator has been designed as a solid tool, not fancy toy. You go to customer, start it, use whole day, stop it, go to another customer. We used only tested and reliable components. Nothing crazy or risky, just pure old fashion reliability with well defined maintenance schedule.
Business series NEC projectors, tested and loved PS-6TM-1500, reliable Mercedes Atego cabin, Dometic's caravan air conditioning just for cabin, Dell professional monitors, high-end gamers computers but without any overclocking, PowerWalker on-line UPS and single 37U rack.
Fact No. 2
With Delightful Looks
Even the smallest details matter. This is the reason why we have decided to design and install plexiglass displays covered with carbon vinyl. Operator desk is also our own custom design optimized for this simulator, not some 3rd party desk. We also make sure that things like operator steering wheel and pedals are not just attached, but instead beautifully merged into the desk structure.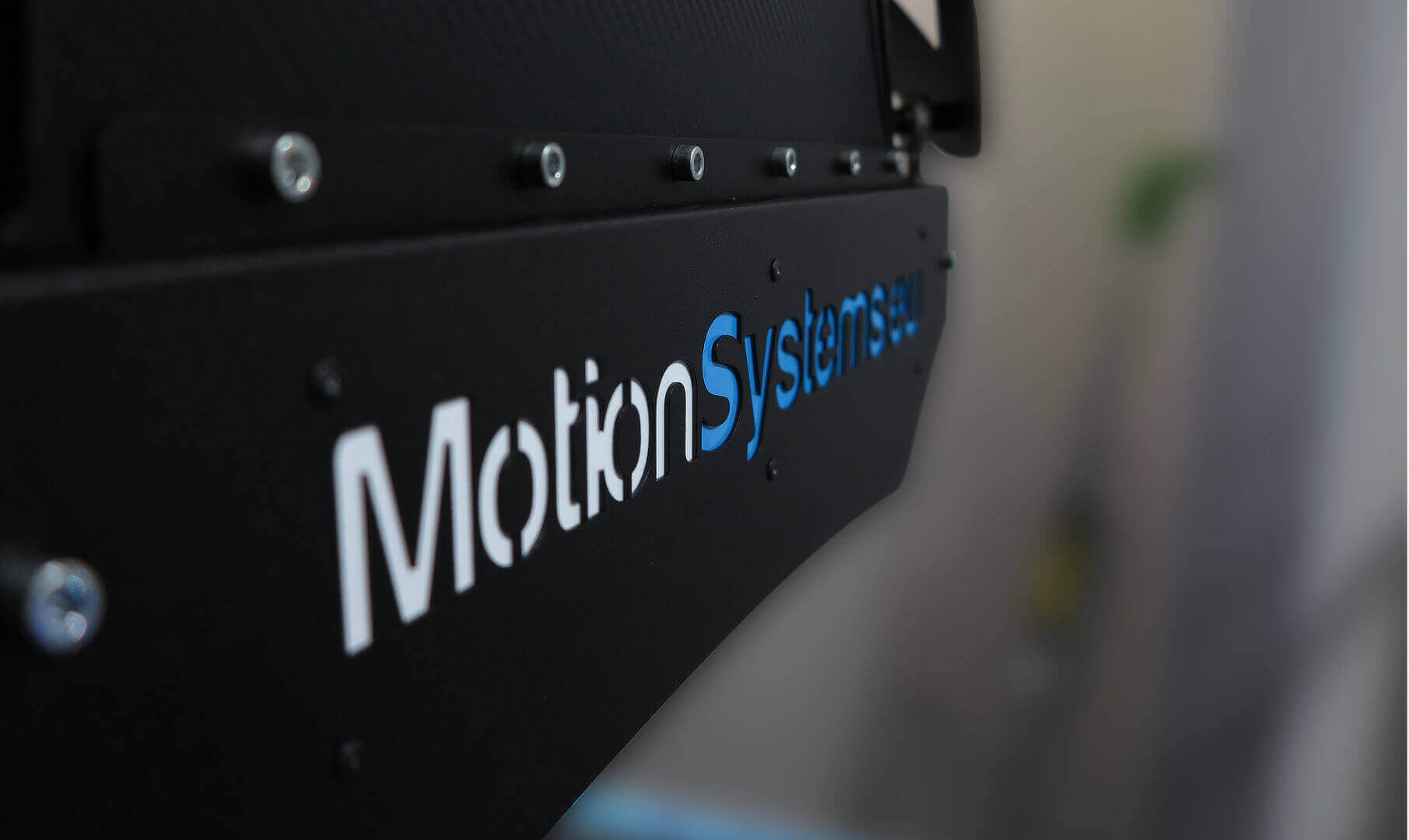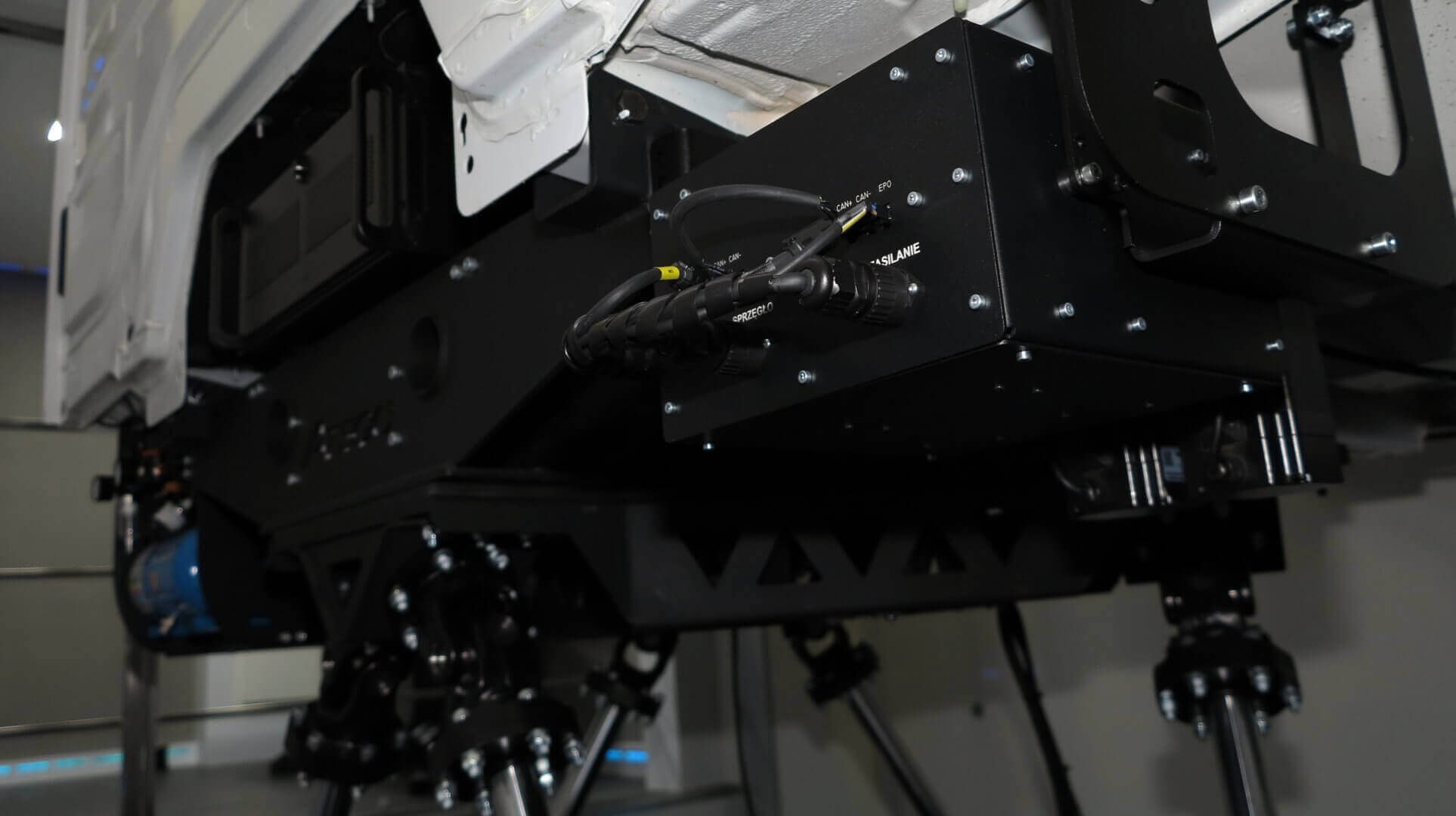 Fact No. 3
Based On Reliable Components
We use PS-6TM-1500 as a motion platform in this simulator. It offers 0.4G accelerations, small and compact size, low power consumption and low noise level. This model has been used with success in many demanding applications in the past and it is seems to be the best choice for this simulator. You will not be able to unleash its full performance in mobile version of the simulator, but in standalone version – it might catch you unguarded.

Fact No. 4
Assembled With Original Equipment
The cabin uses as many original Atego components as possible. All buttons (almost) and all levers are original. They will not break, they will work for years. Seats, seat belts, ventilation, steering wheel are also OE. All components are connected to our network so everything works. Custom air conditioning system is fully integrated with original ventilation control and brake pedal is pneumatic like in real truck.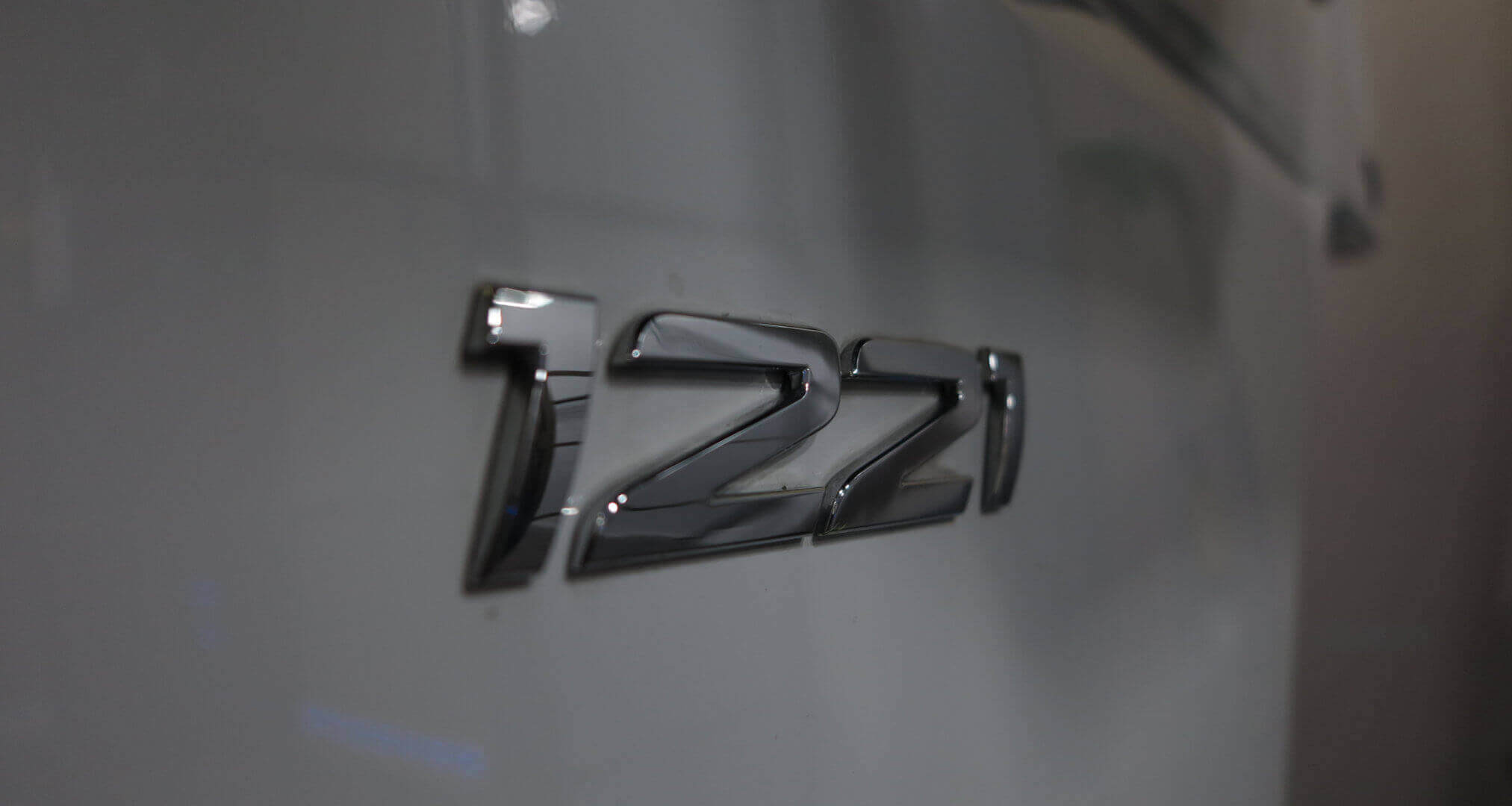 Advanced vehicle physics
high-performance physics simulation powered by PhysX
complex tire traction model
high fidelity of vehicle mechanics verified by driving instructors
Extensive road network
open-world road network with editable road signs
more than 150 km (93 miles) of roads and highways
automatic detection of traffic offences
Intelligent traffic system
animals, pedestrians, bikes, motorbikes, cars, vans, buses, and trucks
different behaviors of participants in road traffic
up to 200 AI-controlled vehicles and pedestrians in sight
support for right side driving and left side driving
Configurable vehicles
different truck, semi-truck and buses models
full range of different engines to choose for vehicle
6 speed manual gearbox
8 speed manual dual-gearbox
9 and 12 speed automatic gearbox
vehicle stability control systems (e.g. ABS, ESP)
all-wheel drive differential locks
different models of trailer and load setups
Diverse environment
plains, forests, hills, tunnels, rivers, bridges, villages, and cities
variable weather conditions and different times of the day
custom training scenarios and random events
different set of road signs depending on the selected country
Ergonomic user interface
an interactive world map with dynamic scenario events
intuitive vehicle parameters and driving conditions
recording the training course and generating reports
multiple user interface languages
Call Us, Write To Us, Visit Us
Our office is located in Wroclaw Technology Park
Duńska 13, Lambda building, 54-427 Wrocław, Poland
Email: contact form
Business hours: 7:30-15:30 (CET)
Supported languages: Polish, English and Russian
You are always welcomed, but beforehand, please notify us about your visit