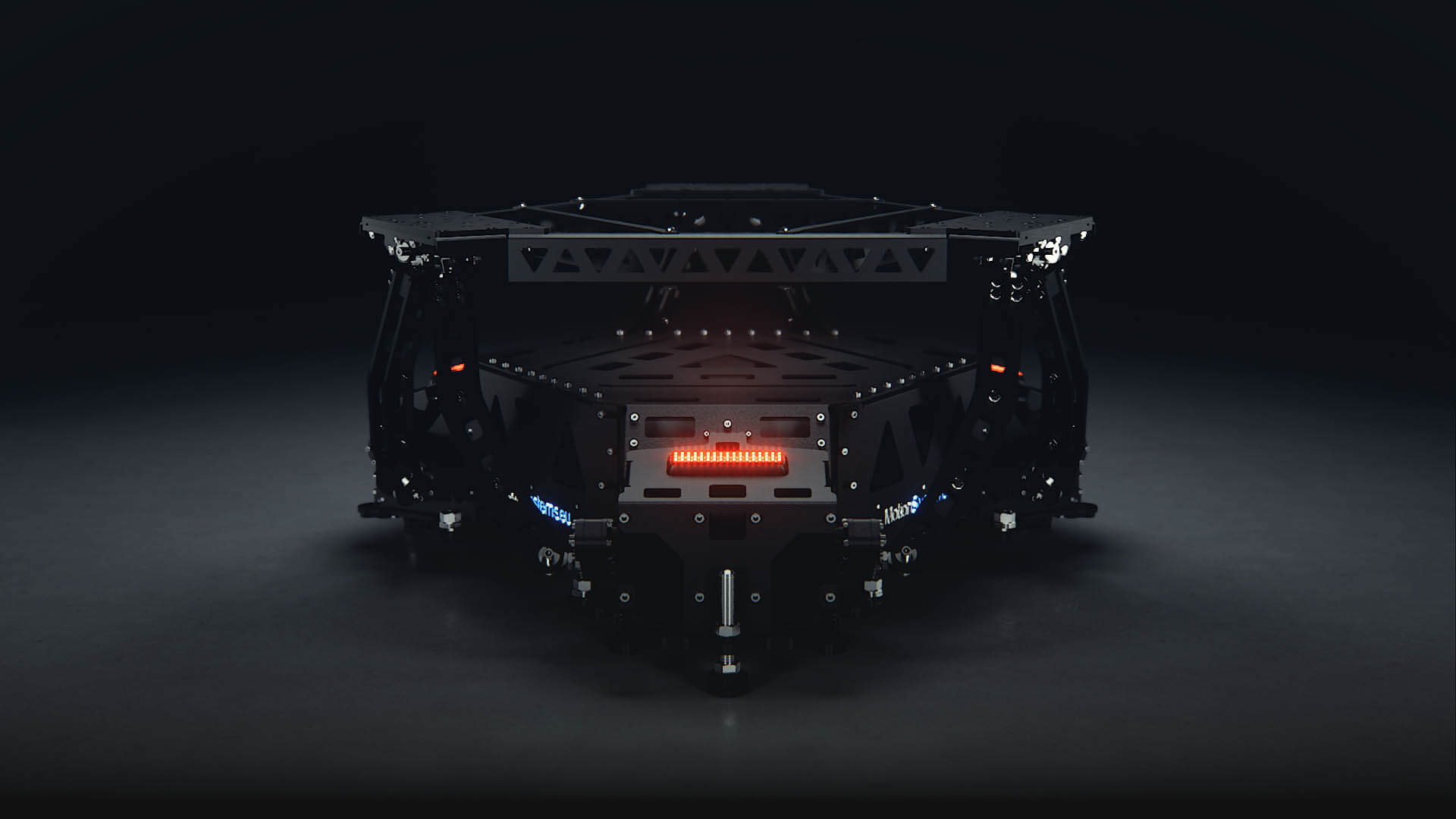 MOTION PLATFORM
PROFESSIONAL SERIES

Resistant to overload
Good resistance to momentary overload resulting from dynamic change in mass distribution

Super Silent
Extremely quiet and smooth operation

Movement repeatability
High ability to generate vibrations and incredible movement repeatability

Safety
Safe mechanical design resistant to permanent damage

Unleashed performance
Highest performance in compact and mobile chassis

Software support
Control all our motion platforms using one of ours SDK

VR technology
All our motion platforms work in VR environment

Easy to transport
Modular design enabling transportation and assembly on site from the main components
MOTION PLATFORM PS-6TM-550
NEXT LEVEL OF MOTION TECHNOLOGY
The PS-6TM-550 motion platform is the combination of high tech motion system with perfect look. The platform was considered the most stylish machine of the 6DoF family. Customers choose it not only for aesthetic reasons, but primarily for its low profile design, high ability to generate vibrations and good resistance to momentary overloads resulting from dynamic change in mass distribution which are necessary features in the construction of small and medium cockpits and cabins for simulation.
platforms are suitable for small up to medium flight simulators
vehicle training simulators for up to 4 people
small and medium size military training simulators for up to 4 people
land vehicle simulation
small and medium size mining equipment simulators
industrial testing
VR for entertainment up to 4 people To every Motion Platform purchase The Platform Manager software is added without a charge. This applies to all Motion Platforms available. This application allows to: use motion platforms with supported games, perform diagnostic, monitor motion platforms operation, update firmware, compensate head movements thanks to VR HeadWay included and use SDK - ForceSeatMI to connect it to your custom applications. Moreover all our motion platforms work with VR technology and software is constatnly updated.
If you are interested in connecting your own custom applications or using motion platforms with computers on different system than Windows please make yourself familiar with SDKs.
Windows
Raspberry Pi
Linux
Unity
Unreal Engine
Matlab & Simulink
*Support for Motion Platforms can be added if UE4/Unity application is possible to modify.